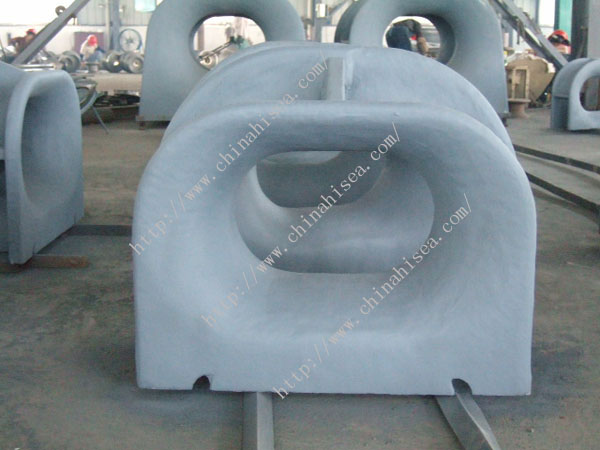 JIS F2017 Panama Mooring Chock (AC Type)
JIS F2017 Panama Mooring Chock (AC Type):
Mooring chock products mainly include: DIN type mooring chock, Panama mooring chock, closed mooring chock, mooring type mooring chock, Spain mooring chock, single point mooring chock, etc., but also according to their shape into round mooring chock, oval mooring chock, square mooring chock, etc.
Mooring chock more insurance than steeper, because it is closed, so the cable will not jump. In order to avoid the wear performance of the cable and the hole, there is a circular rotation of early mooring chock, but the mooring chock rotating maintenance inconvenience, loss of function is easy to rust, but are rust easily lose function, instead replaced by the roller mooring chock, the situation has improved .
1.Jis F2017-AC
2.Size: 310,360,400,450,500
3.Material: ZG200-400,ZG230-450
4.Certificate: BV,CCS,DNV,ABS
5.Paint: Grey Epoxy Primer or Black Bitumen Paint, also can do comply with your requirement for the thickness.
6.Packing: Steel Pallet
Specification: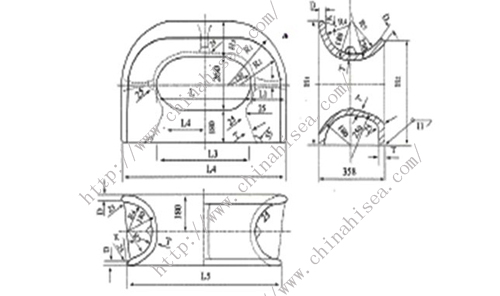 Jis F2017-AC Panama Chock
Nominal Size (mm)
L
L1
L2
L3
L4
L5
D
H1
H2
H3
K
T
Weight (kg)
SWL
310
310
199
105
310
708
652
38
639
541
199
15
32
253
30T
360
360
200
130
360
760
704
40
640
542
200
15
34
289
40T
400
400
202
150
400
804
750
44
642
545
202
20
36
323
60T
450
450
203
175
450
856
802
46
643
547
203
20
38
351
80T
500
500
204
200
500
908
854
48
644
549
204
20
40
395
100T