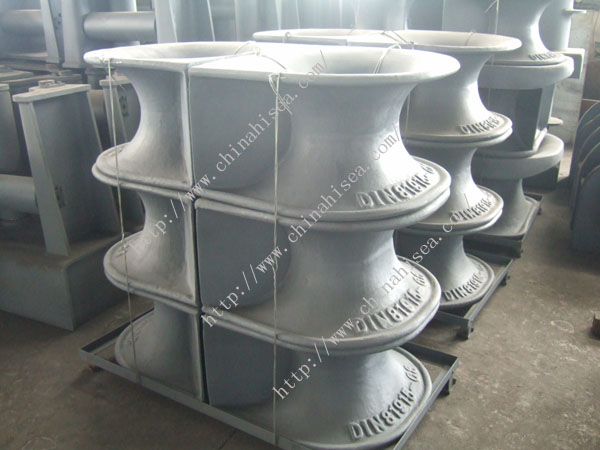 DIN81915 Mooring Chock (C Type)
DIN81915 Mooring Chock (C Type)
Mooring chock more insurance than steeper, because it is closed, so the cable will not jump. In order to avoid the wear performance of the cable and the hole, there is a circular rotation of early mooring chock, but the mooring chock rotating maintenance inconvenience, loss of function is easy to rust, but are rust easily lose function, instead replaced by the roller mooring chock, the situation has improved .
Hi-sea Group supply all kinds of mooring chock .Quality management and product strict according to IACS requirement.
Technology Details :
machining facilities:CNCcenter,CNC lathes,ultrasonic wave cleaning,etc.
Certification:ABS,BV,LR,DNV,CCS etc approval
Norminal size: 150mm to 550mm
Max. steel wire diameter: 16mm to 44mm
Hemp rope circumference: 125mm to 310mm
Quality: ISO9001:2000 , OEM&ODM,CNC control
Surface: High corrosion-resistance , Mirror or Satin polished, Galvanized
Material: Stainless steel-AISI316 AISI304 ,alloy casting and carbon steel
Technics : Precision Cast
Shape: Oval/Circumference/circle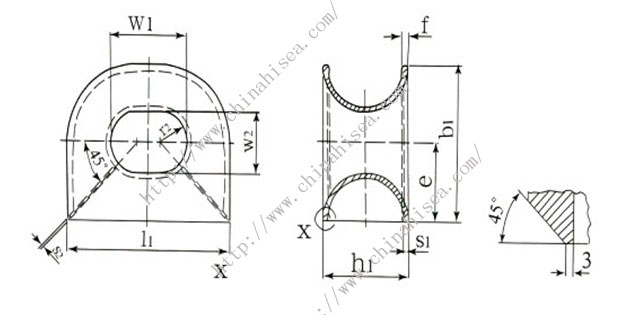 | | | | | | | | | | |
| --- | --- | --- | --- | --- | --- | --- | --- | --- | --- |
| | Max. Proof load | b1 | e | f | h1 | l1 | w1 | w2 | Weight (kg) |
| 1 | 10KN | 250 | 125 | 15 | 160 | 285 | 125 | 90 | 18 |
| 2 | 20KN | 315 | 157.5 | 18 | 200 | 360 | 160 | 115 | 26 |
| 3 | 30KN | 390 | 195 | 21 | 250 | 450 | 200 | 140 | 42 |
| 5 | 50KN | 480 | 240 | 24 | 300 | 550 | 250 | 180 | 74 |
| 8 | 80KN | 585 | 292.5 | 27 | 360 | 680 | 320 | 225 | 120 |
| 12 | 120KN | 710 | 355 | 30 | 440 | 840 | 400 | 270 | 185 |
| 20 | 200KN | 840 | 420 | 33 | 520 | 1020 | 500 | 320 | 285 |
| 32 | 320KN | 1100 | 550 | - | 700 | 1300 | 600 | 400 | 795 |