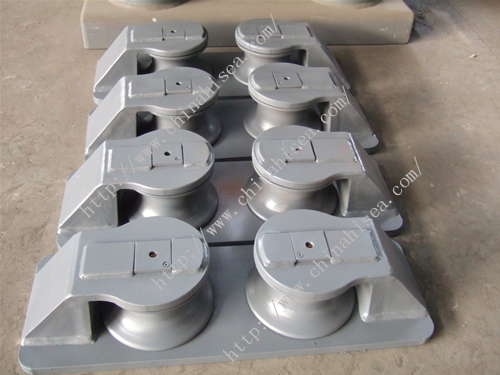 Closed Double Roller Chock
Closed Double Roller Chock:
Roller chock is a key component ship mooring equipment. It is mounted on the decks with no hulwark. Usage of fairlead and Roller chock basically the same.
The types Roller chock lot, basically can be summarized into two categories: no Roller chock and Roller chock. There are chock with roller (two rollers, three rollers), straight with no roller chock and prevent the cable out of the ramp so roller chock classification.
Compared with the fairlead:
Fairlead roller chock steeper more insurance, because it is closed, so the cable will not jump. The Roller chock is more convenient to use, easy to operate, short manufacturing cycle
Hi-sea Group supply all kinds of roller chock .Quality management and product strict according to IACS requirement.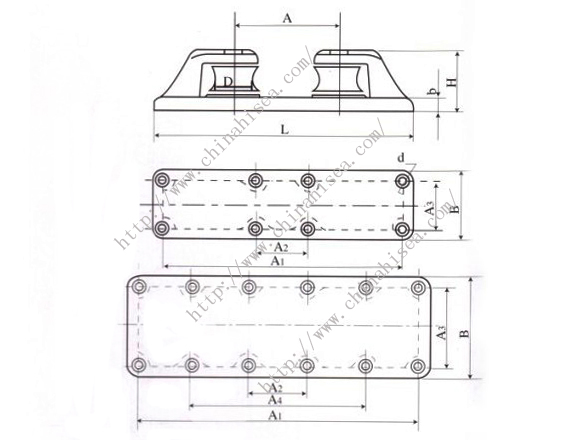 Max.Diameter of Wire Ropes(mm)

Max.Diameter of Hemp Ropes(mm)
Roller Dia.(mm)
L(mm)
B(mm)
H(mm)
h(mm)
r(mm)
A(mm)
A1(mm)
A2(mm)
A3(mm)
A4(mm)
d(mm)
Screw Numbers
Weight(kg)
Cast Iron
Cast Steel
Cast Iron
Cast Steel
Cast Iron
Cast Steel
15.5
125
75
640
175
168
158
40
30
30
240
580
110
115
-
17
8
50
44
19.5
175
100
800
210
190
180
45
35
35
300
730
120
140
-
21
8
86
82
22.5
200
125
940
245
217
207
50
40
40
360
860
140
165
-
25
8
141
133
26
225
150
1100
280
250
235
55
40
45
420
1010
170
190
-
30
8
222
215
30.5
250
170
1200
310
273
260
58
45
45
460
1110
230
220
-
33
8
300
274
33.5
275
185
1300
340
285
270
60
45
50
500
1200
240
240
-
33
8
374
329
37.5
300
200
1400
360
295
280
65
50
50
530
1300
260
260
800
33
12
444
417
43.5
325
230
1580
400
320
305
65
50
50
590
1480
280
300
900
33
12
589
547
48.5
350
250
1700
42
340
340
70
55
55
640
1590
300
310
980
39
12
721
687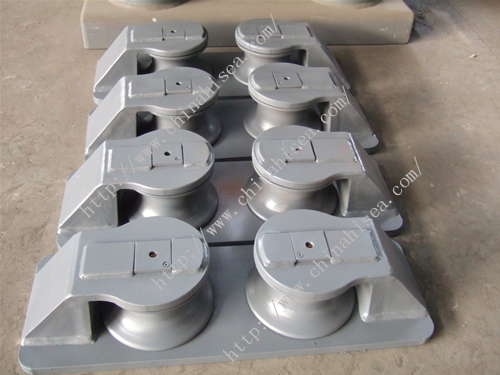 Double Roller Chock